Announcements : UGA Exchange Application Deadilne for Spring 2021
Announcement: UGA Exchange Application Deadilne for Spring 2021
Event Date: 09/15/2020
September 15, 2020 is the application deadline for UGA Exchange Programs
*A few programs may have an earlier deadline
EXPLORE UGA INTERNATIONAL EXCHANGE PROGRAMS SPRING OR SUMMER 2021 APPLICATIONS ARE OPEN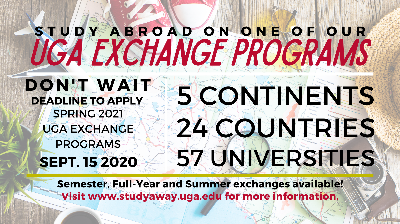 SPRING 2021 Exchange Application Deadline – September 15*


*Hong Kong, Singapore Stellenbosch, Zurich have an earlier August 21 deadline
--WHAT MAKES STUDYING ABROAD WITH A UGA EXCHANGE PROGRAM UNIQUE?
Flexibility to choose from the widest group of academic subjects
Greater independence to explore your host country and organize your own daily activities
Strong cultural and direct academic immersion experience abroad
Take classes with Host University students
Study subjects in English and/or language of the Host Country
Live and study abroad for a full semester or longer
Meet international exchange students studying at UGA
--TO APPLY:
http://t.uga.edu/1GQ
--FOR MORE INFO & SCHEDULE EXCHANGE ADVISING APPOINTMENT
:
-- DEADLINES: September 15, 2020 for Spring 2020 *some Spring applications have an earlier deadline

February 1, 2021 for Summer 2021 & Fall 2021
--COSTS & FINANCIAL AID:
UGA students pay an Exchange Program Fee:
(currently $6,040/semester),
which is equivalent to UGA in-state tuition/fees
(payable to UGA.)
Additional expenses include airfare, meals & accommodation expenses at Host University, study abroad insurance, and other personal expenses.
HOPE, Zell Miller, Pell Grants & other UGA Financial Aid will apply toward UGA Exchange Programs.
Additional Study Abroad Scholarship Opportunities:
--ACADEMIC AREAS:
While on exchange, students take regular university courses offered by the host institution; Exchange Programs offer a variety of subjects suitable for a wide range of majors, minors, elective and core areas of study. In addition, many programs will offer language and culture study as part of the curriculum.
UGA Exchange Programs Chart by School/College (PDF)
Explore all UGA Exchange Programs
Explore UGA Exchange Programs by Region Below