Managing a Program Abroad


Managing a program abroad is more than just the time spent abroad -- it is an ongoing process that involves the following steps:
Sample timeline for a Maymester program abroad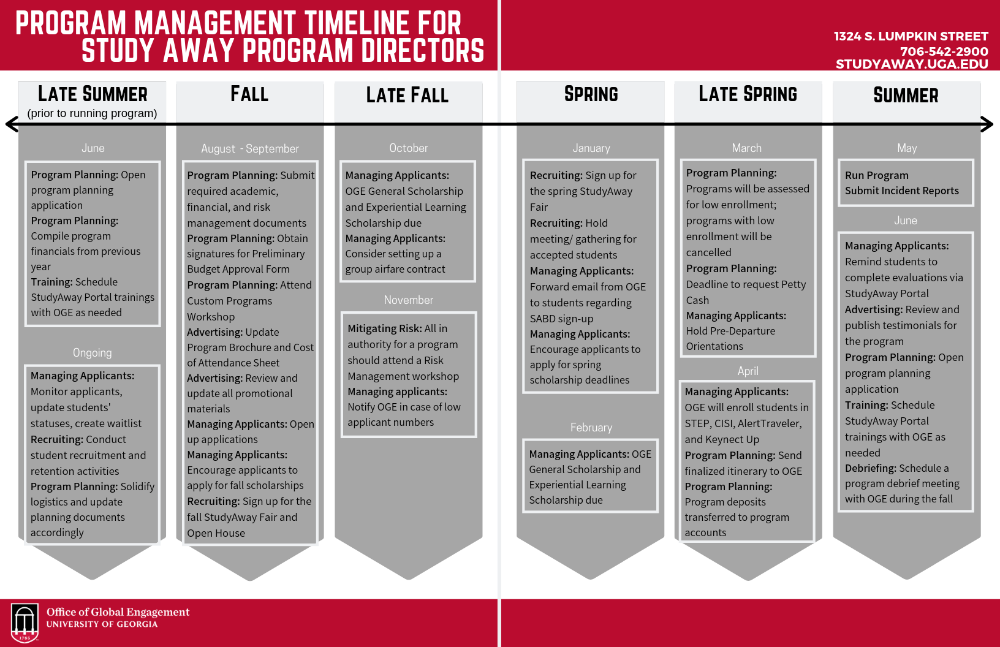 For access to the StudyAway Portal, all Program Directors and designee(s) are required to attend a StudyAway Portal training with the Database Administrator. These can be scheduled by emailing studyawayhelp@uga.edu.

This training only needs to be completed once, but additional "refresher" trainings can be scheduled as necessary.

For information about additional trainings and workshops available through OGE, please visit our Advisor Resources Page.
All international study, work, and travel arranged by UGA faculty or staff that involves students must undergo regular review to receive approval from the Office of Global Engagement (OGE), the Office of Curriculum Systems, and the individual departments/colleges overseeing the experience abroad.

This review takes place in the StudyAway Portal through the annual program planning process. For more information please see the Existing Program Planning page.
Student recruitment is on ongoing process that ideally takes place several months prior to the program's application deadline. Our Tips for Managing a Study Away Program webinar can be found on our YouTube Channel and through Training & Development. For a Maymester or Summer program, student recruitment events should take place in the fall semester of the preceding year.

OGE recommends (but does not require) the following student recruitment methods/ events:
Global Open House (annually takes place in August)
Study Away Fair (annually takes place in September/ January)
Classroom presentations
Interest meetings
College or department-specific recruitment events
Program Directors should also ensure that their
Program Brochure
and
Cost of Attendance Sheet
are up to date so that students searching for programs in the StudyAway Portal will receive accurate information.
Many Program Directors operate independent websites and produce electronic/print promotional materials to advertise their programs. These should be reviewed annually for accuracy.
Program Directors are responsible for reviewing their applicants and maintaining student application statuses in the StudyAway Portal. Program Directors should never accept a student with an incomplete application.

Here is an explanation of all of the available application statuses:
Pending: The default status when a new application has been created. This is used to indicate that no decision has been made yet on a student's application.

Submitted: Student has completed an application and it is now ready for review and decision.

Accepted: Student has been accepted to the program.

Committed: Students with an "Accepted" status must click the "Commit" button on their application to indicate their commitment to participation.

Not Selected: Student was not selected for the program (rejected).

Waitlist: Student has an eligible, complete application but the program is full.

Withdrawn: Student has withdrawn from the program. Please note: this option should only be used by students. If you opt to not select a student for your program, please use "Not Selected".

OGE Approved: Used internally by OGE to indicate approval for scholarships and non-UGA programs.

Incomplete After Deadline: Student did not complete their application before the application deadline.

Duplicate Application: Indicates that this application was a duplicate.

Program Canceled: Student was accepted to the program but the program was canceled.

Once the student selection is finalized, only the following statuses should be remaining:
Committed
Not Selected
Waitlisted
Withdrawn

Please keep in mind that only students who have Committed and have paid their program deposit can be counted towards the minimum enrollment of the program. As students update their statuses to "Committed," we recommend that you give them a deadline by which they must pay their program deposit (generally 1-2 weeks after you have updated their status). This allows you to have a more accurate idea of who is truly committed to the program while helping you add students from your waitlist as necessary. To see which students have paid their program deposit, follow the directions here.

Only students who have Committed to the program and have paid their program deposit can be subject to the StudyAway Withdrawal Policy. All students must sign an electronic signature document on their StudyAway application that says they have read and agree to this policy; however, we encourage Program Directors to remind students of this policy before they Commit to the program and pay their program deposit.

If a student withdraws from the program, please ensure that the following steps take place:
The student needs to:
Inform the Program Director (in writing) of their decision to withdraw from the program
Familiarize themselves with the StudyAway Withdrawal Policy
As applicable, students may appeal the program fee charges after the charge has been posted to the student account and no later than the last day of the program

The appeal should consist of a detailed letter explaining the basis of the appeal along with any pertinent supporting documentation
The appeal must be submitted in writing to the Office of Global Engagement Appeals Committee via email at studyaway@uga.edu
Students will be notified in writing via UGA email of receipt of the appeal
All appeals will be reviewed
Appeal decisions will be made within 30 days of receipt
Additional documentation may be required to complete the appeal
Information about medical withdraws can be found within the StudyAway Withdrawal Policy
The Program Director needs to:
Request that the student provides them with a written statement of their decision to withdraw from the program
Ask the student to familiarize themselves with the StudyAway Withdrawal Policy
Provide the student with the information about the appeals process, as applicable
Complete the StudyAway Student Withdrawal Processing Request Form
Update the student's status to "Withdrawn" in the StudyAway portal
Another component of applicant management is ensuring that all program participants are properly enrolled in both their academic courses and their placeholder course. Please review the following information to ensure compliance: Course Registration and Payment Tips
Program Directors are encouraged to request access to the Argos report that provides information about:
Student enrollments in a program's placeholder course
Student enrollments in a program's academic courses
Student payment of program fees/tuition
In addition to completing the annual program planning process, all Program Directors and individuals of authority on the program are required to attend an annual Risk Management training.

Anyone in a position of authority on a UGA study abroad or domestic field study program, including graduate and teaching assistants, must complete the Program Staff Agreement.

All programs are required to have a pre-departure orientation and to have documentation of 100% student attendance. Program Directors are encouraged to:

At least 30 days prior to program departure, Program Directors must do the following:
Submit an updated itinerary

Confirm destination details

Confirm all program participants
The Database Administrator will enroll all confirmed program participants, including the Program Director and others in positions of authority, in both
CISI insurance
and the
STEP program.
OGE recommends that all Program Directors
download an Emergency Response Kit
with student information from the StudyAway Portal prior to program departure.
While abroad, please use the
Online Incident Report
to report incidents abroad.
Once you have returned from your program abroad, schedule a debriefing meeting with OGE by emailing studyaway@uga.edu. These 30-minute meetings are a chance to sit down with the Associate Provost of Global Engagement, the Director of Global Education, and the Director of International Finance to review the program, look through student feedback of the program, and discuss the following year's program.

Program Directors are encouraged to review and publish student testimonials at the close of each year's program.
To receive periodic announcements (once-twice per month) for those involved in study away programs at UGA, please join the
FACSA-L listserv
managed by Global Education. To join the list, please contact Dr. Laura Ramiro Moreno, Global Education Advisor, via email at
LauraRM@uga.edu
or by phone:
706-542-2900
.
All FACSA-L messages, from the present dating back to February 1999, are archived within the
FACSA-L listserv
.
Please note: You must be a member of the FACSA-L listserv in order to view the archives.