Proposing a New Program

The Office of Global Engagement (OGE) is always open to exploring the development of new faculty-led programs. Proposing a new program is a process requiring the involvement of OGE, relevant department administration/staff, the Office of Curriculum Systems, and the Dean(s) of the appropriate college(s). To allow sufficient planning time for a new study away program, it is best to start the process at least 18 months prior to the estimated program departure date.
VIDEO INSTRUCTIONS
An overview of the program proposal process can be found below.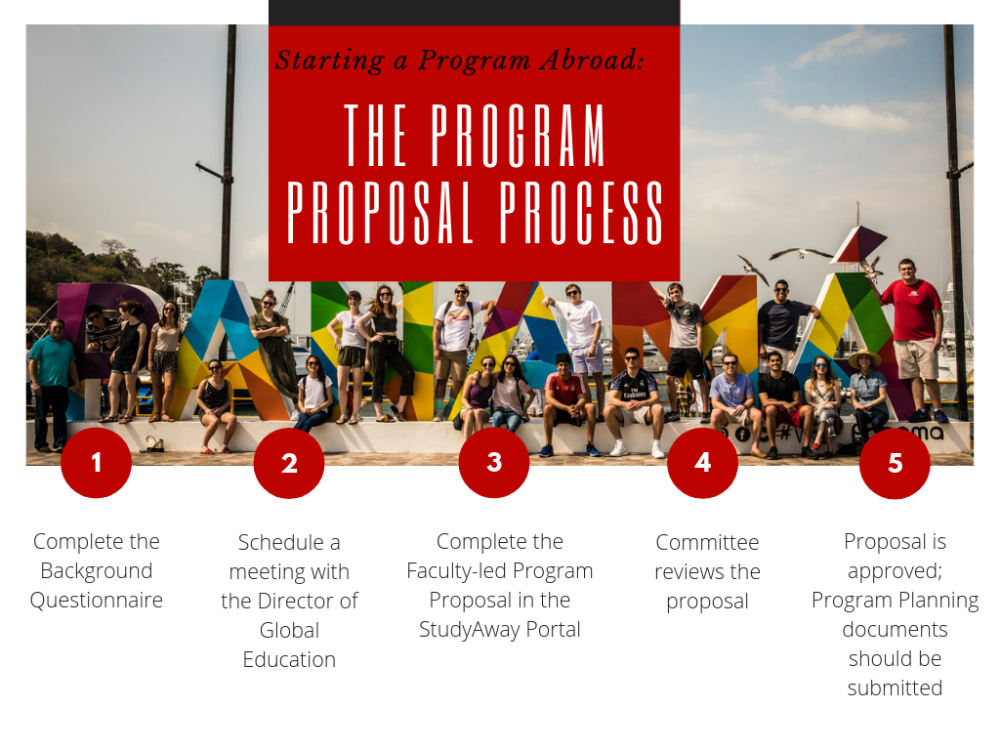 Rev. 10/10/2019

Step 1: Complete the Background Questionnaire
For faculty considering creating a study away program, the first step is to complete
a background questionnaire.
This form is intended to prompt faculty to begin thinking through the academic, financial, and risk management components of the planning process. It is also created to help guide the conversation between the faculty member and Dr. Yana Cornish, Director of Global Education, as outlined in Step 2.
Once the questionnaire has been submitted, OGE will reach out to the faculty member listed and set up a meeting.
Prior to the meeting, the faculty member should:
Step 2: Schedule a Meeting with the Director of Global Education
The purpose of this meeting is to:
Discuss rationale for the program and its benefits to the academic unit and UGA
Evaluate the viability of the proposed program and how it will fit among existing program offerings at UGA
Discuss the academic and financial management of the proposed program
Discuss the long-term sustainability of the program
Discuss safety and stability of the area in which the proposed program will be located

Step 3: Complete a Faculty-led Program Proposal in the StudyAway Portal
Program Director(s) or a designee can create a Faculty-led Program Proposal in the StudyAway Portal for the semester and year that they intend for their program to run.
They should complete the following information:

Questionnaires
Program Rationale
Program Leadership
Academic Information
General Program Information
Financial Information
Travel, Facilities, Housing/ Meals
Health and Safety
Risk Management
Orientation
Consular/ Emergency Service Information

Material Uploads
Please note that students are attracted to programs with clearly defined instructional expectations and syllabi. "Directed Readings" courses are strongly discouraged. Instead, Directors should consider offering existing departmental courses or creating new courses designed specifically for the study away program
.
Step 4: Committee Reviews the Proposal
Each semester, representatives from OGE, the Office of Curriculum Systems, UGA's Office of Emergency Preparedness, and faculty representatives meet to review and discuss each proposal. The review process will include a review of the academic, financial, and risk management components of the proposal. Each member of the committee will need to give their approval of the proposals. In most cases, the committee will ask for additional documentation before approving programs.
OGE will indicate final approval of program proposals by sending a letter to the proposing faculty member's Unit Head/Director, and the Dean of their college.

Step 5: Proposal is Approved
Once a program is approved, the faculty Program Director (or a designee) should: