Peace Corps Prep Certificate

The University of Georgia Office of Global Engagement and Peace Corps' Office of University Programs is pleased to offer the Peace Corps Prep Certificate, available to UGA undergraduate students. The program will enable you to acquire the knowledge and skills necessary to serve in your preferred program area as a Peace Corps Volunteer. The University of Georgia, which "endeavors to prepare the University community and the state for full participation in the global society of the twenty-first century," makes students ready to contribute positively to global society through respect and understanding of cultural differences and excellence in public service. These goals contribute well to the Peace Corps mission of promoting world peace and friendship through service and cross-cultural understanding.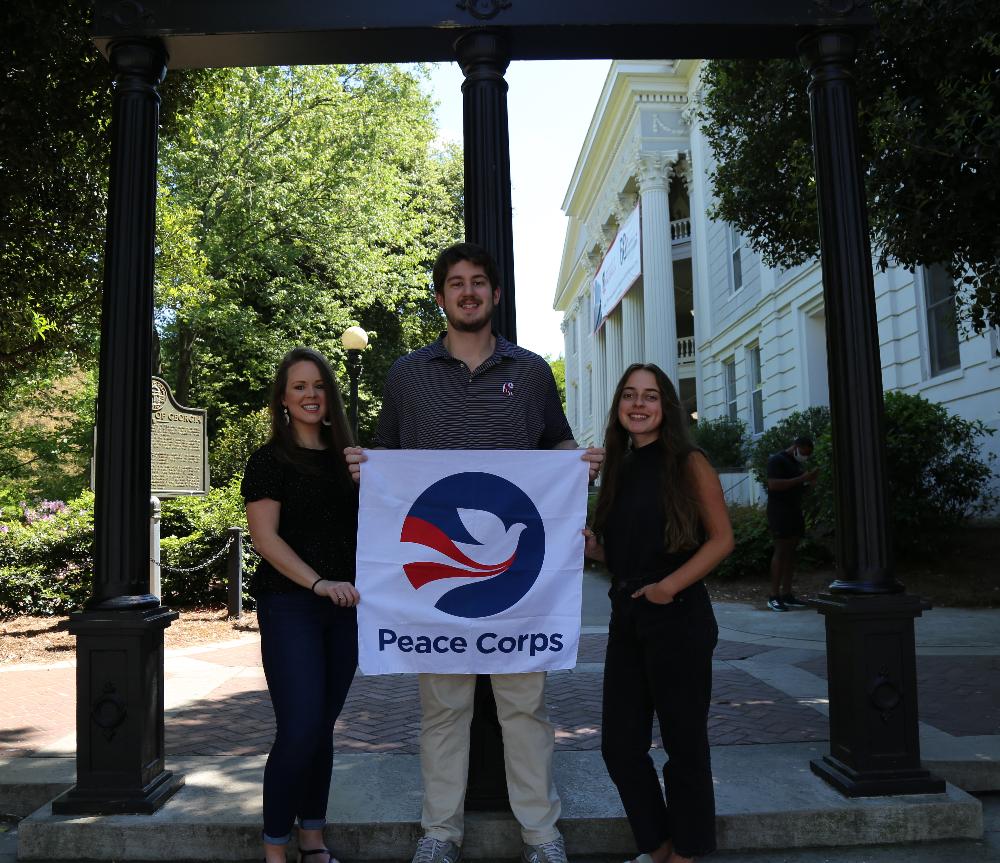 Recipients of the Peace Corps Prep Certificate for Spring 2021
Left to right: Caitlin Meyer, Bennett Edward Hardee, and Zholi Roe
Not pictured: Amna Muhamed Hashim
UGA Among top 10 Peace Corps Prep Schools!
– The Peace Corps announced on Sept. 30, 2020 the University of Georgia ranked No. 10 among Peace Corps Prep schools on the agency's list of top certificate-issuing institutions in 2020. University of Georgia issued 18 Prep certificates to the graduating class of 2020. There were 113 enrolled in the Peace Corps Prep program at University of Georgia during the 2019-20 academic year.
Peace Corps Prep Step-by-Step
<iframe allow="accelerometer; autoplay; clipboard-write; encrypted-media; gyroscope; picture-in-picture" allowfullscreen="" frameborder="0" height="315" src="https://www.youtube.com/embed/EG0vkUPTmrU" width="560"></iframe>
Contacts
Paul Duncan
Peace Corps Prep Certificate Point of Contact
University of Georgia
Holmes-Hunter Academic Building, Room 312C
Athens, GA 30602
tel: 706-583-0619
e-mail: pduncan@uga.edu
Harrison Welshimer
Regional Recruiter|Atlanta, GA
Returned Volunteer, Cambodia
e-mail: hwelshimer@peacecorps.gov
tel: 404-649-7132
www.peacecorps.gov

Yana A. Cornish
Peace Corps Prep Certificate Coordinator
University of Georgia
Director of Global Education
Office of Global Engagement
1324 South Lumpkin Street, Athens,GA 30602
tel: 706-542-2900
e-mail: yanac@uga.edu
Amy Williams
Peace Corps Prep Certificate Coordinator
University of Georgia
Global Education Advisor
Office of Global Engagement
1324 South Lumpkin Street, Athens,GA 30602
tel: 706-542-2900
e-mail: amy.williams@uga.edu